Journals - FSJ Quarterly "
Nihon Minzokugaku

"
About "
Nihon Mizokugaku

"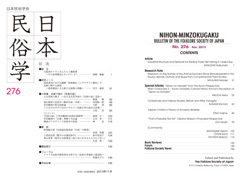 "Nihon Mizokugaku" is the quarterly bulletin of the Folklore Society of Japan, published in February, May, August and November. In recent years, issues have be composed of theses, research notes, book reviews, bibliographical introductions, exhibition and visual media criticisms, forums, Society meeting reports and other special editions. In addition, the triennially compiled Research Trends Issue collects works chosen as representative of the research trends of various research fields and is important in knowing the activities and developments in the Society.
The predecessor to "Nihon Mizokugaku" is the magazine of the predecessor to the Society itself, the bulletin of "Minkan Densho no Kai" (founded in 1935), "Minkan Densho", which ran a total of 324 issues between 1935 and 1983. Minkan Densho, which, with exception of a period during WWII was published nearly every month. By April of 1949, just before the establishment of the Society, the 131st issue (Volume 13, Number 3) was released, followed after the formal establishment of the society by the 132nd issue (Volume 13, Number 4) and until Issue 175 (Volume 16, Number 12) in December 1952 served as the Folklore Society's bulletin. From April 1953, with the publication of the quarterly "Nihon Mizokugaku", it was made the Society's journal and Minkan Densho was thereafter published by Rokujinsha as a magazine aimed at the diffusion of folklore to the general public.
The last issue (Issue 18, Volume 5, Number 2) of the former "Nihon Minzokugaku" was last published in September 1957 and after a blank period of slightly over a year, starting in July of 1958, "Nihon Minzokugaku Kaiho" was published nearly every other month. From Issue 67 (January 1970), the bulletin's name was changed to the present "Nihon Minzokugaku".
Editors
The current editors (serving from October of 2012 to September of 2014) are: SUZUKI Masataka, ANAMI Toru, UCHIDA Tadayoshi, SUZUKI Iwayumi, SEKIZAWA Mayumi, TSUNEMITSU Toru.